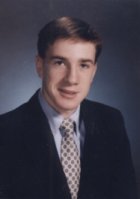 Kevin Michael Eidt
June 17, 1978 - January 23, 1997
"There are many things in life that will catch your eye, but only a few will catch your heart."
The Kevin M. Eidt Memorial Scholarship Fund was established through the generosity of the many people Kevin touched in his short life. Kevin, an 18-year-old dean's list freshman in the honors program at Boston College, passed away from cardiac arrest on January 23, 1997 while playing intramural basketball. Kevin set the example of the passion and sincerity we should bring to each day. He was an individual with vision, commitment, abiding hope, aspirations, and compassion. And when we look back, it was a life, albeit a glimpse of life, by which people can be measured and judged by.
Mission
The mission of the Kevin M. Eidt Memorial Scholarship Fund is to preserve Kevin's spirit by paying tribute to achievements in academics, athletics, arts, and the virtues of service and faith that were the essence of Kevin's life.
Fund Facts
With nine scholarships, valued at $126,000, to be awarded to the class of 2021, Kevin's Fund will have provided nearly $2.4 Million in financial support over 170 exemplary young men and women matriculating at over 70 diverse colleges and universities in Kevin's memory. The dramatic growth in scholarship awards is directly related to the financial success of our annual benefit dinner dance, which began in 2000 and funded scholarships for the class of 2001.